Anime Expo is a 4 day convention held in the summer located in downtown Los Angeles. This year, it was one of the best Anime Expo conventions I have been to. There wasn't too much down time at all for me. Day 1 of the con started off early. Not only I was doing coverage for The CFG, but i was also a cosplay ambassador for Crunchyroll!  The line was as long as ever for the attendees. The overwhelming registration line for normal attendence to the con extended down a few blocks and wrapped around corners in some places! I have never seen the line for badges this long before, and hoped they will find a better way to solve the long wait times next year. I was introduced to some charming voice actors from the new Dragon Ball Z movie God of Destruction, Chris Sabat, Sean Schemmel, and Justin Cook. They indulged me in answering a few questions in an interview session I was conducting for The ConFreaks & Geeks. I had a very enjoyable time interviewing them!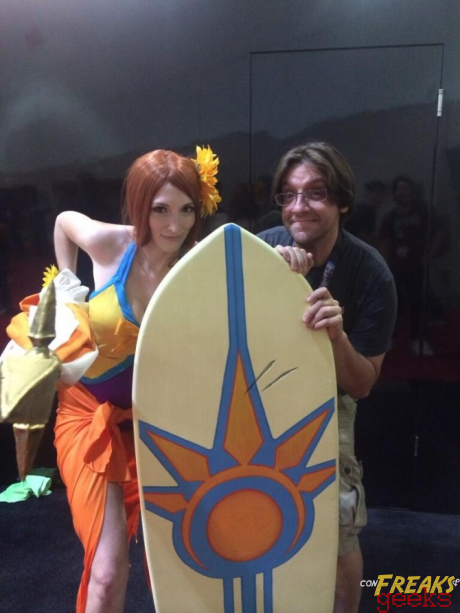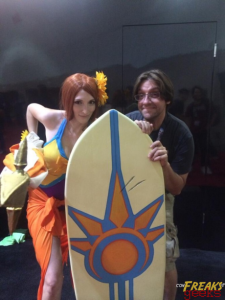 Afterwards, I enjoyed a little bit of relaxation time in the JW Marriott pool. Although it was about twenty degrees cooler in Los Angeles compared to Phoenix, I'm not quite used to the humidity even though it is not as intense as the eastern seaboard. One of my favorite things about the JW Marriott is the fact it has many middle priced restuarants right next to it, with a good selection of choices. It also very close to the Los Angeles Convention Center where Anime Expo is held.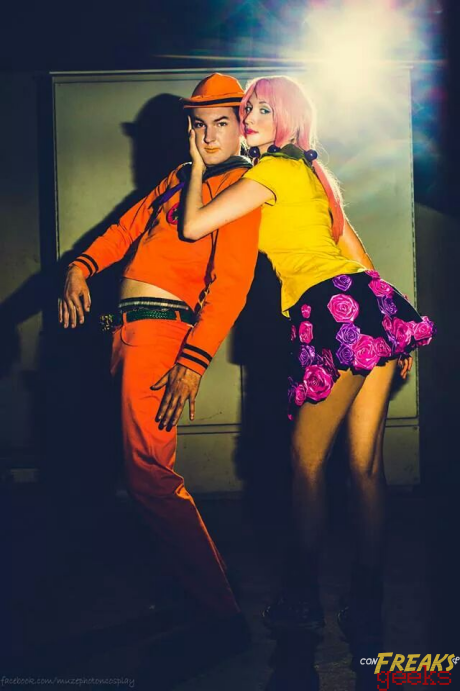 The rest of Day 1 was spent being dressed up as Yasuho Hirose from JoJo's Bizarre Adventure: JoJolion with my friend Yaso, as Josuke Higashikata. The photoshoot by Muze turned out amazing! We aimed for mostly high fashion style like posing and even had a bubble gun to produce the bubble effects that one of the characters uses.
The second day of the con was spent as Pool Party Leona from League of Legends. I wandered around the convention center for awhile until I met up with Michael from MLZ Studios. He was shooting League of Legends cosplayers all day to compile into a video after the con. We decided to go film at The JW Marriott pool and convinced a great Lucian cosplayer, named Kadu=Out Cosplay, to join us. Unfortunately, we didn't spend much time at the pool because of the hotel's no filming policy but were able to manage to get a few usuable shots. We later joined up with Jessica Nigri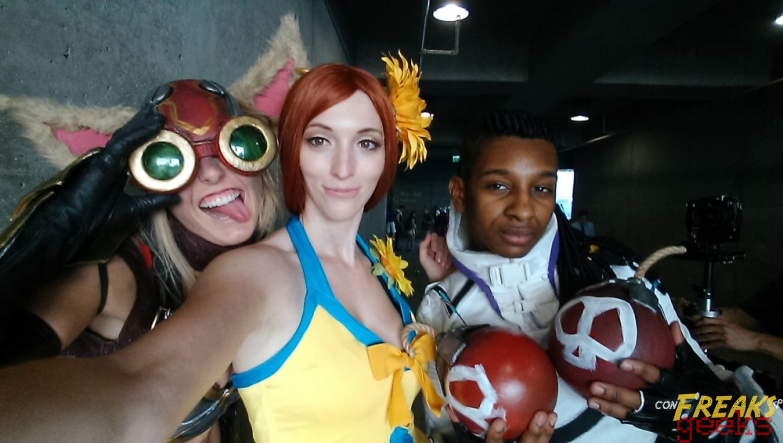 , who was cosplaying Ziggs and recorded some more video with the three of us. I had to say my goodbyes and headed over to a pool barbeque party which was a blast! I met a lot of amazing new friends while enjoying some mixed drinks and grilled meat. The level we were on had a great view of the city horizon, and I could see fireworks going off across the entire skyline! We headed back to the con, to prepare for our Crunchyroll After Hours panel. I was a little clumsy trying to JoJo pose off against Johhny from Junkers' Cosplay, and pretty much fell on the table. We had a pretty good time at the panel and afterwards went back to my room for a small room party! 
Day three called for an early morning, I spent a good part of the day as Lisa Lisa from JoJo's Bizarre Adventure: Battle Tendency with my friend Binkxy who was my lovely SuzyQ. We did some promoting of the JoJo franchise for Crunchyroll which included handing out the PS3 version of the localized the new JoJo's Bizarre Adventure: All Star Battle game. The password was put on Crunchyroll's Twitter account and followers were invited to find Binkxy and I to recieve a copy of the game after telling us the secret word. I really love promoting series that I love and sharing that passion with other people!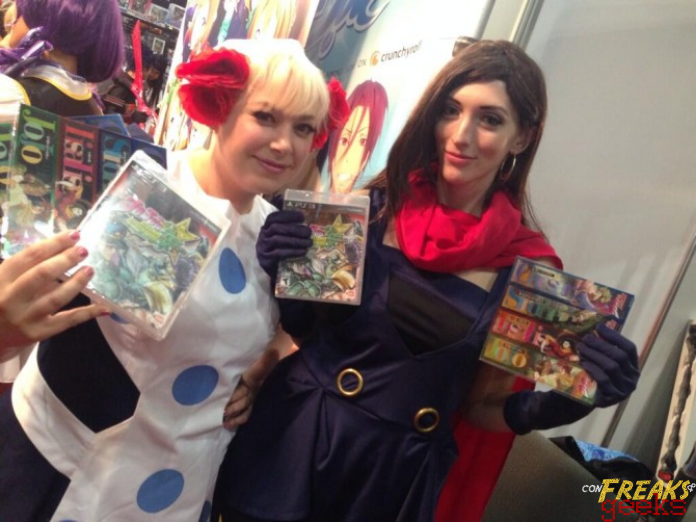 Later that day, I had originally planned to wear Muron Alexius from Magi, but had a change of plans because I wanted to do a photoshoot of my Leona cosplay. Carroll from CK December Photography was able to grant me a quick shoot by the pool (I cant't wait to check it out!). I'm really excited for when those pictures will be done! I managed to stop by the Riot booth while wearing Leona and ran in to Iron Stylus. We promptly started to mutually fangirl over each other! We took some photos together and he was nice enough to sign my surfboard. That encounter really made my day and I was beaming the rest of the day!
The last day of the con was relatively short. I don't usually cosplay the last day of the con, but I was invited to be a part of an eeveeloutions groups and I just couldn't say no. I dressed up as Jolteon, in a bright yellow and black costume. We took a number of adorable photos and then I changed out of costume to finish up checking out of the hotel. On the last day of Anime Expo, most convention attendess spend the rest of the day in Little Tokyo, the Japanese district of downtown Los Angeles. I ran into a number of friends and spent a few hours just enjoying good food and great company. A perfect close to the weekend.