Written: Fabian Rangel, Jr
Art & Colors: Warwick Johnson-Cadwell
Publisher: IDW Publishing
Samurai Jack is traveling with a band of mercenaries; they are charged hijacking a containment unit and bringing it to Lord Groog. Jack and his mercenaries attack the army that is carrying the containment unit in a tank, they are easily defeated. As they camp out, Jack is curious on what was in the unit and he is surprised by his findings. When it comes time to collect their pay and turn over the containment, Jack refuses to turn it over. Groog's troops and Jack's traveling companions attack him. As he fends them off he begins to have flashbacks of another time and another him. In the end, Jack ponders does he belong there and will what is inside the containment unit help him find out.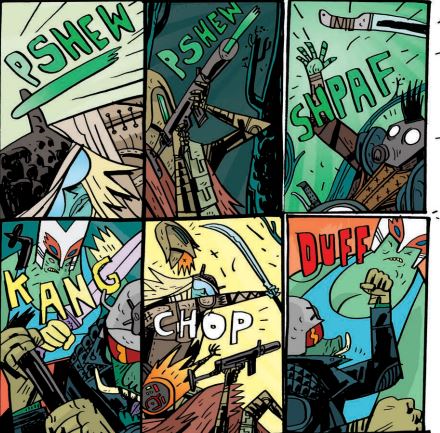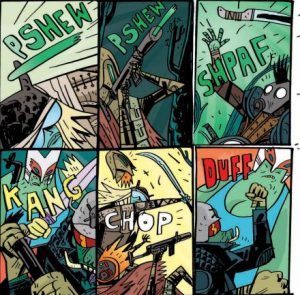 The essence of Samurai Jack is within these pages. Fabian Rangel, Jr. has got a good grasp on what I loved watching Samurai Jack on Adult Swim, you never know what you are getting into at the beginning, by the end it was so awesome you can't wait for the next episode. Rangel, Jr. handles this story very well, it doesn't give too much away about who Jack is in this unusual setting in a biker gang but his thought process and how he figures out a situation is there. There is not a lot of dialogue, but there is art direction through the scenes in the panels.
Hence the art and colors by Warwick Johnson-Cadwell. He takes the story and instead of words, there is scenery, there is close up expressions on faces, there comparison panels. Johnson-Cadwell is able to convey a story without words. His imagery is also reminiscent of Adventure Time; the lines are loose, not sharp, it gives it a playful feel to the art. The colors are muted and dark with bright colors, these mostly lending itself to the sound words.
I am a huge fan of Samurai Jack, this cartoon came around the time when the only cartoons I was watching was The Simpsons and old Warner Brother cartoons. This old-school shogun storyline mixed with animation was well written and original. It is really cool to find these in pages of comics that can be enjoyed by older children and adults alike. Cannot wait to learn more about this alternate Jack