Space Dandy
Shinichiro Watanabe has done it again. He has proven to me that even after huge hits like Cowboy Bebop and Samurai Champloo, that he can still deliver. By working with Shingo Natsume, Funimation, and Studio Bones, he has crafted another fine show that I am honestly sad to see go.  A crazy journey through space, baby!
"Space dandy is a Dandy Guy in space." That's the first line spoken in the show. It does certainly start a bit of curiosity about our titular hero. Dandy's occupation is an alien hunter. He scours the universe for rare or new aliens to register for a fee. Along for the ride is his merry companions, an out of date robot named QT, and a cat-like alien named Meow. As they journey through the cosmos, they encounter strange and mesmerizing things. But their hunt is not the only this show has to offer, oh no. In the course of its episode run you get everything from racing through space, playing a gig at Space Budokan, Giant Robots battles, to figuring out what happened to the first craft Humanity launched into space. The planets they visit are unique and the aliens diverse. And Studio Bones makes this variety a thing to behold. 
---
The Stars have lots of colors, baby!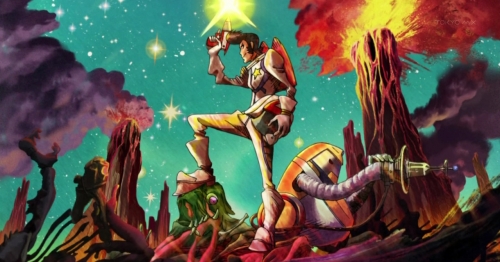 The animation in Space Dandy was finely crafted by the good folks of Studio Bones (Soul Eater, Wolf's Rain) and they delivered. When I think of the universe, I generally think of vast emptiness, nothing to see for long periods of time. But Bones has crafted a universe full of bright stars, colorful nebulas and some frankly beautiful planets. The characters and aliens are no different. Dandy is a "Bancho" styled character with a sweet pompadour and the most futuristic shoes I've ever seen. QT is an egg shaped robot and Meow is a cat that walks upright but wears a sash and crocs. The art is smooth and almost never dips in quality. One thing that really caught my attention is when they swap art styles altogether. Most series will stick to a single art style, but through several episodes, the primary style gets swapped out and replaced with something entirely different. This is in no way a bad thing either, it shows the studio's chops. This show is also laden with several spoofs of different things. The Gogel Empire a spoof of a certain popular search engine, Boobies a fairly great spoof of Hooters and many more. I wish I could have seen more of the universe and its inhabitants. But the universe would be a dull place without interesting stories to fill it with.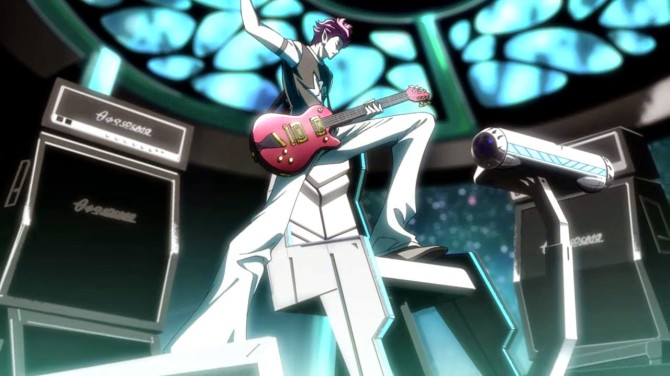 ---
Let me tell you a story about a guy named Dandy, baby.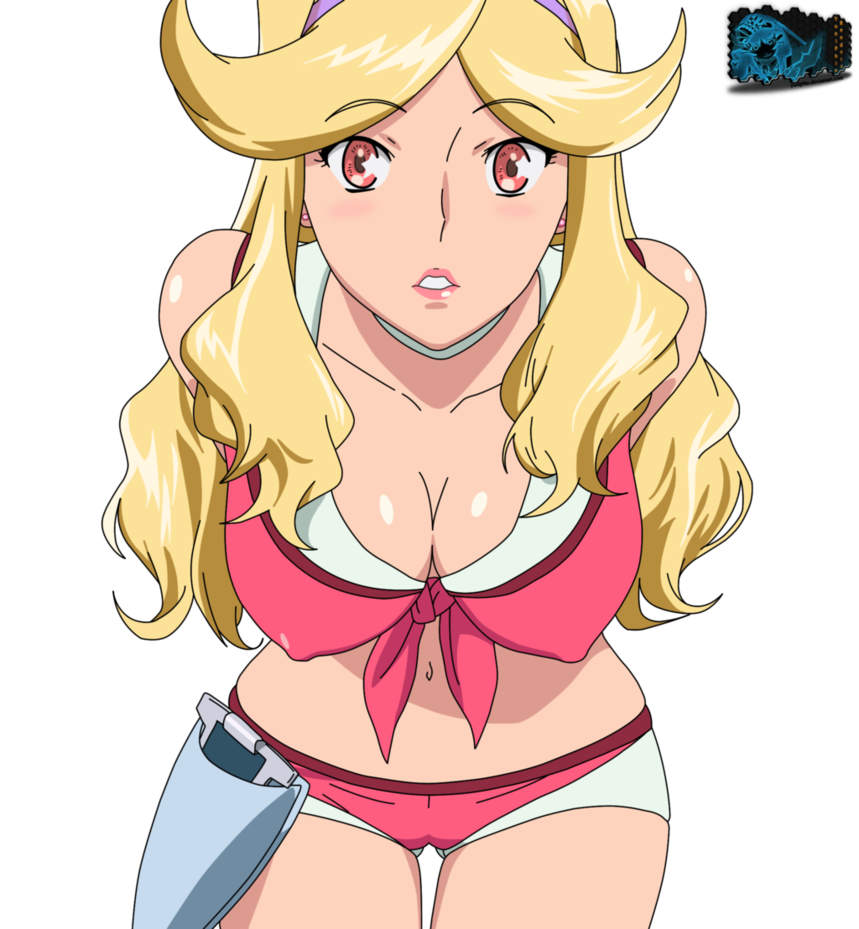 Space Dandy is not one continuous story rather a series of different stories that may or may not be connected. Confused? Don't be. In the first episode, Dandy pulls on what is believed to be one of the universes strings, causing him and his cohorts to become multi-dimensional. In several episodes the crew dies, only to show up next episode with no knowledge of misadventure and another chase to begin. Dandy and Crew are not the only ones affected by this strange Phenomena. Throughout the story, we also follow a pair of agents from the Gogel
Empire who are hunting Dandy. Dr. Gel and Bea follow Dandy around in a large ship that is LITERALLY the statue of Liberty with a Ball Gag (I wish I was kidding)! They die almost every episode as well, but during one episode they break the fourth wall for a second to make a statement about their constant failure. The episode structure is somewhat formulaic, but it never feels tedious. The episode will start out locating new alien, then shenanigans ensue. HOWEVER this is not always the case. The crew often goes to Boobies where you see Honey, another character who gets screen time for obvious reasons. The Alien Registration Center where you meet Scarlet, the Alien Registrar who determines if Dandy gets paid. The story also takes you other fantastic places. Like a ramen space station where you can try all different kinds of different cosmic ramen, or a planet for couples to take vacations on. There is a sense of connection between several of the episodes and the series does come to what seems to be a conclusive ending to it all. The stories range from anywhere to serious and heart breaking to funny and trippy. Yes this series is VERY trippy. It's all in the writing and situations.
---
Space is full of characters, Baby!
The writing for this show is not particurally advanced, but it packs a punch. The style of writing for each character is hand crafted and never out of place. Dandy says silly and sometimes epic things. Meow is an otaku and QT is a robot who is the straight girl(?) amongst the insanity. They feel crafted with a sense of fondness and purpose. Even the characters who are only around for an episode are great. My favorite two had to be Adélie, an alien Dandy must transport, and Johnny, whom Dandy and crew form a rock band with. Even though both of them were only in for a single episode, I felt like I got to know them well. But you can't have deep characters without voice.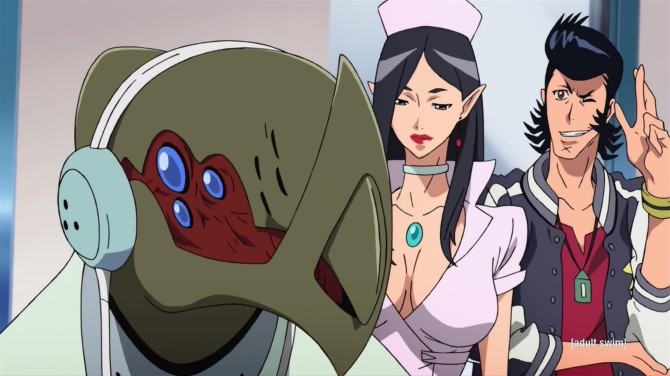 The voice work, sound effects and the sound track for this show is impressive. The characters are voiced by quite the bevvy of talent. The English Dub actually premiered on Adult Swim in the US before it premiered in Japan. An impressive feat when you think about the general flow of Japanese release then the agonizing wait to see if it gets dubbed and localized. I'm very happy to report that both dubs are fantastic. I have watched the show in both version and the Japanese dub takes the lead by a very narrow margin. If you prefer Japanese with/without subtitles, then choose that one. But if you're looking for a well dubbed anime then look no further. When paired with the excellent sound effects and score composed by the Space Dandy Band, you get an anime that sounds just as good as it looks. It's a huge pleasure to hear the groovy bass kick in when the action heats up. I seriously went and purchased the sound track, I was totally enamored. It's worth a look. I almost forgot to mention the stellar opening and ending tracks. The opening "Viva Namida" by Yasuyuki Okamura is a groovy 50's sounding song and a great tune to show off the character's and style of Space Dandy. It's short, sweet and it gets you pumped for the episode ahead. The shows credit roll is "Welcome to the X Dimension" by Etsuko Yakushimaru is a more pop song with nice vocals and a smooth rhythm that helps bring the episode to a smooth close. If only the last time I heard it wasn't the episode before last. 
---
Here's the wrap up, Baby!
I wasn't sure what to expect from Space Dandy's heritage. What we get is a great romp through a bizarre universe with plenty of shenanigans, humor and touching moments to go around. I laughed, I cried and I questioned what I knew about the universe (and it' trippy nature). Space Dandy is well worth the watch and I couldn't recommend it more! As soon as it hits Blu-Ray I will be picking this up.
Overall Score Baby!  
10/10