Today we're very lucky to be joined with British independent artist Paul Kemble. After a sterling turn on "Memorial – the Great War Centennial Anthology" (http://memorial.wonderfunders.com/) where he covered art duties on three stories (by the likes of indie writers/producers Robin Jones and Adam Cheal), Paul has provided artist assistance to Dark Pond Creations, but is now, though his own comic imprint of Stencroad Comic's, is launching his own title: X-Scream.

Paul took some time out of his manic schedule to talk us through the book and a few other things:

John CFG: You're in the final stages of production of the debut feature for Stencroad Comic's – a book titled: "X-Scream" – can you tell us a bit about the book, what can we expect from this new title?
Paul: This comic book is loosely based on an old favorite from my childhood, The British 80's Horror Comic SCREAM! with just a touch of inspiration from H.P.Lovecraft and me! In the X-Scream you will be delighted to find some ghoulish tales with a splash of the weird And an explosion of spectral gore and ballistic mutant mayhem! The book will be released every four Months.
John CFG: How have you ended up here, as a comic creator – what has been your journey to get to this point in your life?
Paul: What can I say the road of comic creation is a dreaded one! you have to put in many crazy hours and be prepared to bleed for your work. But its worth it in the end! I started out as a struggling Artist trying to convince people to give me a job. But in the end I just didn't have what it takes so I set up shop on my own. I learnt as much as I possibly could hell you-tube became my art class God! I took notice of advice and constructive criticism given believe me it all helped. One moment I had been made redundant from my warehouse job due to illness The next minute I'm working in my dream job putting out my own material!
John CFG: Where has your apparent love of horror come from, on the 'Sick-puppy' scale how fun is the inside of your mind?
Paul: My first taste of horror came from Godzilla movies then from the depths of Tales from the crypt as a young rotting sprout. Then my eighth Christmas my Dad got me The Book of Hammer Horror. But things got very interesting for me the day I got to see John Carpenters The Thing at the tender age of eleven after that it all went down the sick pan! I took to reading Action comics and Battle then after they converged 2000AD. As I matured I took to mixing it all with 80's Horror heavy metal Edger Allen Poe and H.P.Lovecraft. You could say you wouldn't want to be inside my mind for long? Hell I love every twisted second of it!
John CFG: Having been lucky enough to see you working live at a convention (where you converted cos-players into artistic representations of their characters) you have a unique style in your art – is that something that you've consciously developed compared to more generic Big Two style sequential art?
Paul: My own style is something that was just born out of bad habits and many hours of learning how to draw I love Carlos Ezquerra and Simon Bisley's work so I took to copying their style when young but Bernie Wrightson is my hero. Old Bernie got me in to line drawing and old British retro styles! I think I mutated from there on and The Monster goes on to learn!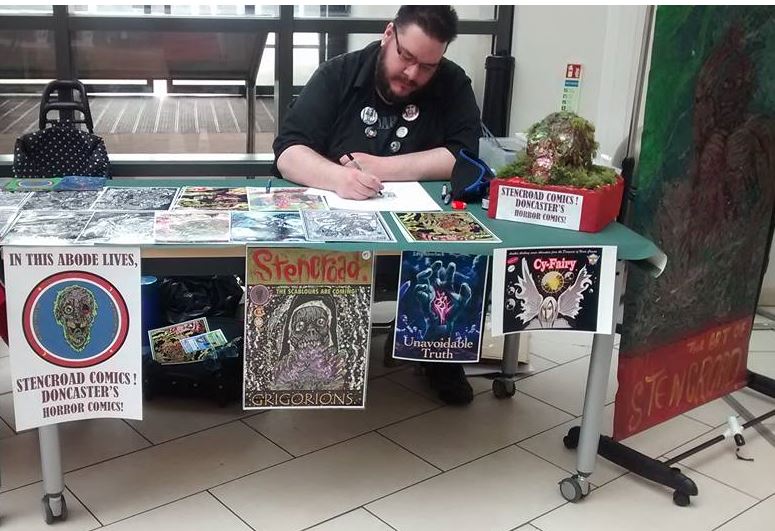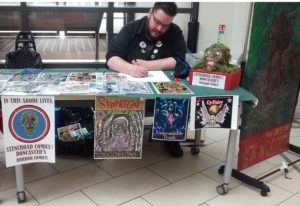 John CFG: As X-Scream wraps what are you working on next? (if you are at liberty to disclose that)
Paul: Stencroad will be launching more titles this year X-Scream will continue every four months until I have a production team to pound out more issues. My next one will be Stencroad's Scars of Fray! a good mixture of Monsters phantom diseases and zombie warfare. I will continue to produce things that go grrr or bump in the night.
John CFG: You've been busy this convention season, do you have any more appearances that the comic loving public can catch you at?
Paul: You can come find me at The ICE Comic convention in Birmingham on 10th of September and Geekfest 2016 at York on 15-16 October. come say hello have a natter get a free scribble would be great to meet you! Cheers for your time and interest. Be Well Be Creative!